GREAT birding at the Elkhorn Inn!
McDowell County, WV is an extraordinary "hidden gem" for birdwatching!
The journalist Bruce Ingram, author of over 2,100 magazine articles and five books on the outdoors and birds, after having his breakfast on the Elkhorn Inn's front patio, presented us with a "quick list" of the birds he saw while sipping his coffee:
Veery, Cardinal, Tufted Titmous, Chicadee, Wild Turkey, Downy Woodpecker, Pileated Woodpecker, Crow, Ovenbird, Sparrow, Black-and-White Warbler, American Redstart, Hooded Warbler, Mallard, Wood Thrush, Robin, Mourning Dove, Blue Jay, Scarlet Tanager, Phoebe, Red-Eyed Vireo, Indigo Bunting, Barn Swallow, Parula Warbler, Red-Bellied Woodpecker, Worm-Eating Warbler, Cowbird, Carolina Wren, and Goldfinch!
He explained that the "best" bird he saw was the Veery, that prime spring birding season here is from late April to early June, as well as in the fall, and that "one could probably hear and see 50 to 60 birds over a weekend"! For 16 years we and our guests have woken up and gone to sleep to 100s of different bird calls and song, and enjoy the birds at our feeders year 'round, but this is how we found out how great the birdwatching REALLY is here!
The "Duck Family" of Elkhorn Creek!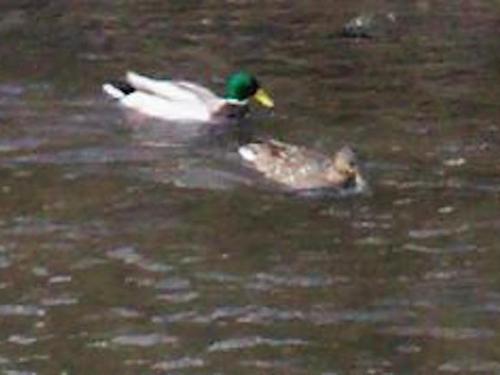 The "Duck Family" we see every year in Elkhorn Creek behind the Elkhorn Inn!
Wild Turkeys!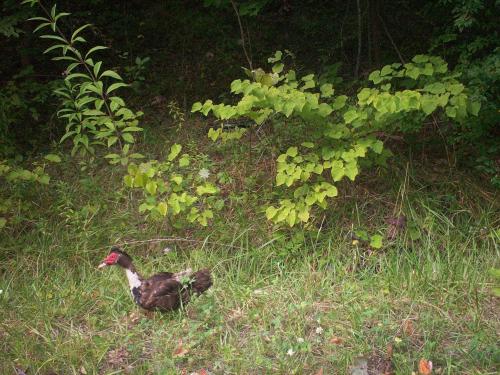 Weild Turkeys can be seen throughout McDowell County!
Baby birds nesting at the Elkhorn Inn!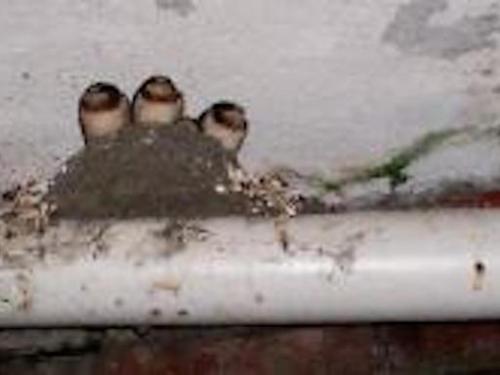 A nest of baby birds on the Elkhorn Inn's front porch!