"This Old WV House" - Our restoration of the Elkhorn Inn!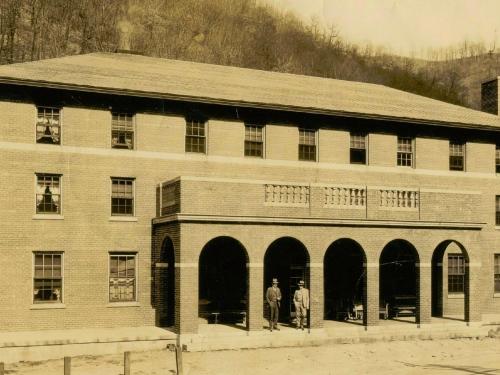 Dan & Elisse's Restoration of the Elkhorn Inn
The story begins in the summer of 2002, when we (Dan & Elisse Clark) found the building we wound up turning into our home and the Elkhorn Inn & Theatre. At the time, we both worked for FEMA in Disaster Response, and Dan was Logistics for the FEMA Disaster Recovery Operation following the flooding of southern WV in May 2002. Driving for months throughout McDowell County, Dan often passed the historic "Coal Heritage Trail" building & the copy of Shakespeare's Globe Theatre across the creek. Boarded-up, twice flooded, abandoned, and vandalized, the Inn building was a mud-and-mold-filled shell. The back deck and bridge had been destroyed, and the doors had been stolen along with just about everything else- only the 6 (very heavy!) claw-foot bathtubs, and a few toilets and sinks remained intact. But, as they say, it had "potential". LOL Elisse looked at the massive, Italiante brick building, with it's fabulous archway and balcony, and saw the Italian Palace of her college dreams when she had been an art student in Florence- she finally had her "Palazzo Italinano nella montagni" (Italian Palace in the mountains)!!
The darling little Theatre on the hill across the creek had been abandoned, vandalized, and water-loggged, too, and the property used as a dumping ground for everything from tires to broken appliances. No one bid against us, and many people, including government officials, assumed we were crazy, laughed at us to our faces, and told us we'd be gone in six months! But we looked at it all and saw what it Could be: An elegant historic Inn with lovely rooms filled with art, period and antique furnishings, and vintage quilts... a patio with cafe tables for train and bird-watching... guests sitting on the balcony with a glass of wine as the mist covered the mountains at twilight, and the "Pokey" railroad chugged by... a lovely gift shop filled with unique West Virginia art and craft... an elegant dining room for dinner parties and weddings... perhaps even a small museum to showcase the history of the area... and our new home.
Dan believed he could save the building (which was slated for demolition), and Elisse believed in Dan! We had met railfans, fishermen, ATVers, and other tourists enjoying the many fun things there are to do in McDowell County, but none of them were staying in the county, as after the 2002 floods there was NO lodging or dining in the area. We bought the property and moved to McDowell County to help kick-start the post-flood tourism economy of the area and help it recover by literally creating post flood McDowell County tourism: opening an historic inn which would provide lodging, and later, fine dining, and promoting he Inn and the many great things our county had to offer to tourists across the nation and overseas.
We named our new home the Elkhorn Inn for Elkhorn Creek, which runs between the Inn and the Theatre, and has been called "the best wild trout stream in the USA".
There'd been 4 feet of standing water and mud inside the Inn, and there was 5 feet of mud still in the basement... So in the middle of an ice-storm, during the winter of 2002-2003, Dan shoveled five feet of mud out of the basement, gutted the entire first floor, power-washed it out with bleach 3 times and then dried it out, and in January of 2003 we moved into our new home! Then Dan rewired, replumbed, and rebuilt it, from the bottom up: laying the pink marble floor on the original concrete, installing 240 sheets of drywall, building door frames and installing new doors, building new woodwork, plastering ceilings and adding crown molding, painting, laying laminate flooring on the second and third floors, adding WiFi internet... etc., etc., etc.! We put a new roof on the building, as well, as the original 1922 shingles hadn't ever been replaced, and the roof was leaking; the third floor had been water-damaged, as a result. We added the art collection from Elisse's NYC gallery, antiques, textiles, and vintage 1920s and 1930s furnishings. Dan cleared away the garbage, weed-whacked, trucked in 1000s of pounds of topsoil, and created our gardens; we planted roses and tulips, sunflowers, and veggies. He installed new "antique" lamp posts outside the Inn... and we opened our new home as the Elkhorn Inn & Theatre in May 2003.
HGTV made two television programs aboout our restoration: "Building Charachter", and "ReZoned", and in 2008 Dan was awarded the Coal Heritage Achievement Award for Historic Preservation from America's ByWays.
Dan is US Army Retired, with decades of military and corporate management experience, civilian, and government service. Elisse, a veteran (Sgt.) of the IDF, and an Official Artist for the US Coast Guard, has decades of experience in international business management, marketing and promotions, and government service.
We believe in the power of Sweat Equity, and are proud to be "West Virginians By Choice"!
Coal Heritage Historic Preservation Award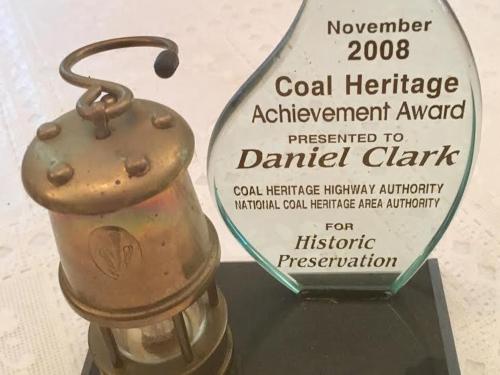 2008 Coal Heritage Achievement Award for Historic Preservation, from America's ByWays - presented to Daniel Clark
Come on down. learn, and help!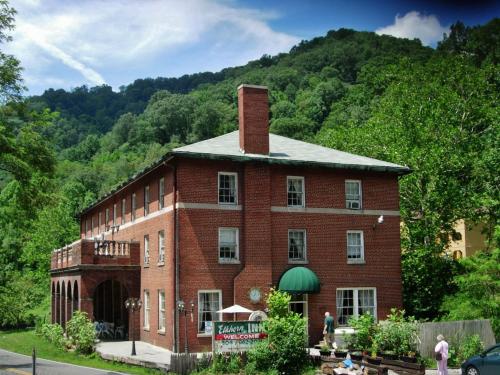 Maintaining an historic building is an endless task, and there's always LOTS one must do to keep an historic building alive and functioning! And Boy, could we use some help! :-) Dan can teach what it takes to restore and maintain an historic building, so if you are considering restoring one yourself, or would just like to be a part of helping preserve America's history and industrial heritage, call us at 304-862-2031 or 1-800-708-2040 & c'mon down!