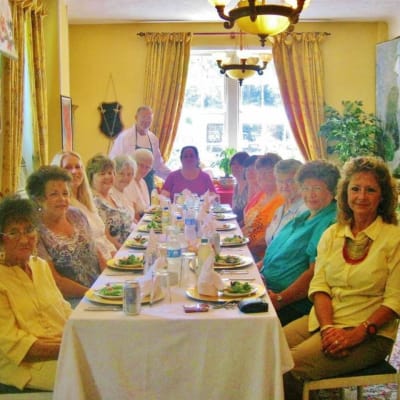 Meetings & Event Spaces
We have the venue for your next meeting or event!
The Elkhorn Inn is the perfect place for your next Dinner Party, Meeting, Reception, Reunion, or Special Event! The Elkhorn Inn Dining Room can seat up to 25 for dinner, and more for an hors d'oeuvre buffet. Elegantly furnished with charming antiques and fine art, the historic Elkhorn Inn's unique atmosphere will truly make your next special event special!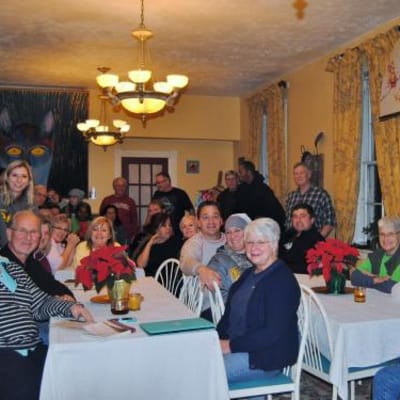 Rent the Entire Inn
Rent the Entire Inn for Your Event or Meeting!
The Elkhorn Inn welcomes groups of up to 30 people for Special Events!
We host Corporate, Religious, Association & Organization Meetings, Reunions, Retreats, Artist and Writers Workshops, Symposia, Film Crews, Weddings, Receptions, Commitment Ceremonies, Dinner Parties, Holiday Events, Hobby and Club Meetings, and Incentive Groups!
Call Elisse & Dan at 304-862-2031 or 1-800-708-2040 to start planning your next special event!
The Entire Inn - 14 guest rooms (max. 30 people): $1499.00/night + tax.
8 Guest Rooms on the Second Floor (max. 16 people): $799.00/night + tax.
Rates include Continental Breakfast for guests of the Inn.
Dinners at the Inn may be booked for groups, as well.
Flowers, favors, decor, specialty foods, special menus, and other items for special events are available on request.
Conference & Meeting Packages, including lodging and meals, are available, as well.
All group bookings must be paid in full by Cashiers Check two weeks prior to arrival. There is a two week cancellation policy for a refund for all group bookings.
Weddings at the Inn
The Elkhorn Inn's Big, Fat, Over-The-Top WV Weddings!
Country Music Television (CMT) has called us twice for a wedding to film, so you know we do THE best West Virginia weddings!
Fun things to do here for the wedding party (or bachelor/bachelorette party) include world-class ATVing, "railfanning", and trout fishing, as well as golf, hiking, and other fun in the mountains!. :-)
Your wish is our command!
The Elkhorn Inn can provide a variety of things to make your special event special! Please call Elisse at 1-800-708-2040 to start planning your event! Note: Alcoholic beverages must be supplied by guests at this time. (We recommend Kirkwood Winery in Summerville for wonderful WV wine!) Some of the many, lovely things we can provide include:
Fresh or Silk Flowers
Vases
Favors
Place-Card Holders
Invitations
Save-the-Date Favors
Attendant Gifts
Ceremony Articles
Jewelery
Decorations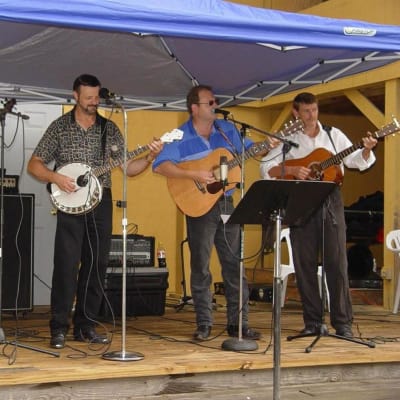 Wedding & Special Event Packages
Wedding & Special Event Packages are custom-crafted; some of the things we can offer include:
Lodging at the Inn for up to 30 people
Appetizer Buffet
Dinner at the Inn
Coffee & Cake
Flowers
Favors and Gifts
Special Decor
Golf at nearby Black Wolf Links
Live music
Free parking, free WiFi, & free phone calls
Dinner at the Elkhorn Inn: From $55/per person
Dinners at the Inn include salad, entree with seasonal fresh vegetable, bread, soft drink/bottled water, desert, and coffee or tea. 15% gratuity (18% for parties of 6 and above), and 12% tax are additional. Up to two entrees may be selected per dinner. Please note that some special, larger entrees are only available for parties of two and above; please call us at 1-800-708-2040 or email us for more information.
A variety of delicious entrees are available, including:
Herb-Stuffed Roast Cornish Game Hen, served with smashed potatoes and fennel gravy
Chicken with Red Wine-Cherry Sauce, from James Porterfield's "Dining by Rail"
Tortellini with Sun-Dried Tomatoes, Pesto, and Artichokes, from James Porterfield's "Dinner in the Dining Car" (vegitarian)
Chef Dan's Almond-Crusted Pan-Fried Trout or Catfish (for at least two people)
Chef Dan's Pork Chop with Brandy-Mustard Mushroom Sauce
Chef Dan's Herb-Poached Salmon with Alfredo-Dill Sauce
Chicken Picatta, served over pasta
Grilled Chicken Breast served with rice or poratoes or on a Caesar Dinner Salad
Louisiana "Beer-Can Chicken", served with "Dirty Rice" (for at least two people)
Lemon-Pepper Chicken
Shrimp Scampi, served over rice or pasta
Pasta with House-Made Tomato-Mushroom Sauce (can be vegitarian) and Meatballs, or House-Made Pesto (vegitarian)
Four-Cheese Eggplant Parmigiana (vegitarian - for at least two people)
Vietnamese "Claypot" Ginger Chicken (for at least two people)
Vietnamese Turmeric-Garlic Marinated Pork Chop
Asian Stir-Fried Chicken and Vegetables (spicy or mild)
Ghana Chicken-Peanut Stew, served with rice and traditional condiments (for at least two people)
Chilean Pork Tenderloin with Quince-Merken Glaze, served with Jalepeno-Cilantro Salsa (for at least two people)
Antiguan Rum-Marinated Steak, served with Onion Jam, and Coconut Rice and Beans ($65.00 per person, for at least two people)
Indian Butter Chicken, served with rice and flatbread (for at least two people)
Israeli "Meurav Yerushalmi" (Jerusalem Mixed Grill), served with pita and traditional condiments (for at least two people)
Chef Dan's Herb-Smoked Lamb Chops ($65.00 per person- for at least two people)
Chef Dan's Herb-Smoked Ribs (for at least two people)
Hors d'oeuvres at the Elkhorn Inn - from $25/per person
Appetizer Buffet with four assorted hors d'oeuvres, soft drinks, bottled water, and coffee/tea. 15% gratuity (18% for parites of 6 and above and 12% tax are additional. Appetizers can include:
Spanakopita
Mini-Quiches
Stuffed Mushrooms
Chicken Sate Skewers
Vegetable "Crudite" Platter and dipping sauce
Assorted Cheeses, Olives, Pickles, & Crackers
Mini-Eggrolls or Chinese Dumplings ("Potstickers") & Dipping Sauces
Bruschetta
Shrimp & Cocktail Sauce
Chips and Salsas