The History of the Elkhorn Inn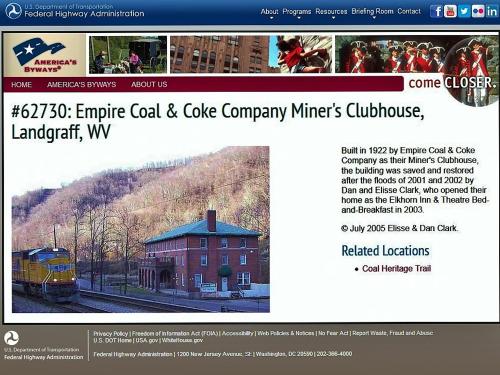 The historic "Coal Heritage Trail" building that is now the Elkhorn Inn was built by the Empire Coal & Coke Company as their "Miner's Clubhouse" in 1922. As we learned from WV Humanities in 2017, our building was designed by the renowned regional architect Alex B. Mahood.
Our brick and concrete building replaced two wooden buildings that had burned down, and although it had no doors and a standing water line inside that was 4 feet high when we purchased it, it survived the devastating floods of 2001 and 2002 which destroyed 30 houses next to the Inn and killed 8 people. We (Dan and Elisse Clark) bought and saved the building from demolition in 2002, Dan restored it, and we opened our new home as the Elkhorn Inn in May of 2003. As we have learned from our guests and area residents, over the years our building changed hands many times and was used for a variety of purposes. From Inn guests who lived and/or worked in this building, we learned that in the 1940s during WWII it was privately owned and a rooming house for coal miner's families- and that our bath with the two claw-foot bathtubs and original 1922 gold-grouted tile floor was the first bathroom in the building, and where the children were bathed! The building was privately owned in the 1950s, but in 1957 it was the office and residence of a mining company supervisor and his family- they have given us photos taken in our building in 1957 for our Museum Room! Our building was later a State Police Barracks, and in the 1960s-1970s it was the offices of Hawley Coal- we have Hawley Coal Core Samples in our Museum Room that we found in the attic! By 1988 it was Data Services, Inc., and in the 1990s it was briefly owned by Billie Cherry, who had our Theatre- the only copy of Shakespeare's Globe Theatre in West Virginia- built on the lot across Elkhorn Creek from the Inn.
Restoring, living in, and maintaining this "Coal Heritage Trail" building is a crazy, wonderful, and endless learning experience and adventure!
HGTV's two programs on our restoration, "Building Character" & "ReZONED", highlighted some of the interesting architectural details Dan "uncovered" in the process of restoring this building,
including the original tile floor in the two-tub bathroom, transom windows on guest room doors, the original hemlock staircase banister, & the pay-window, where the coal miners went to get their pay. Built to withstand fire, the only wood in the building is the trim- the building still has all 66 original 1922 windows! In 2008, Dan Clark was awarded the
Coal Heritage Trail Preservation Award by America's ByWays
for his saving and restoring the Elkhorn Inn, which is the only surviving historic buidling in our area.
The "Restoration of the Elkhorn Inn" page has more informatiopn on our restoration of the building.
The Inn's "Museum Room"
has a growing collection of items from this building's past and our area's illustrious history in railroading and coal mining, including coal core samples, mine maps, scrip, photos, post cards, books, "Pocahontas" railroad china and menus, artwork, and mining memorabilia. Authors
Homer Hickam, Jessee Ring, Nick Christodoulou, Raymond Daugherty, James Porterfield,
photographers
Builder Levy, Douglas Wonders, Mike Shufelt,
and others, have given us their books and photographs on this area, which we have for our guests to enjoy, and in some cases, to purchase in our Gift Shop.
For historic photos of our area, see the following pages:
Area History 1
Area History 2
Area History 3
Area History 4
If you have items you can donate to our "Museum Room", or information or photos to share, please email us at elisse@elkhorninnwv.com or call us at 304-862-2031 or 1-800-708-2040.